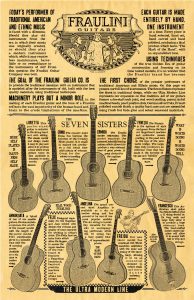 I've always been fascinated by old instrument catalogs and ads, and have wanted to create something similar for the guitars that I've made. There were several challenges that stood in the way of the project, first I suppose was making all the guitars and then getting pictures of them. Second was finding someone to take on the task, as I'm not that savvy when it comes to that type of thing. My buddy Jimmy Burns from Vermont, in addition to being an ace fiddler, is also a talented graphic artist who understood what I was trying to do.
Jim and I did a lot of work to get it together. I had to track down a all the different models and get good quality pictures of them. I also had to buckle down and write all the text. In some cases I took language right out of the old catalogs. I tried to capture the language and spirit of the time.
Jim thumbed through a lot of old catalgs to get ideas for the layout. He converted all the photos to line drawings. His layout really managed to capture the look and feel that I was after. He did a bang up job and I couldn't be happier with the final product.
I'm currently looking at different printing options, so I can't even say that it's hot off the presses at this point.
Thanks a million Jim!