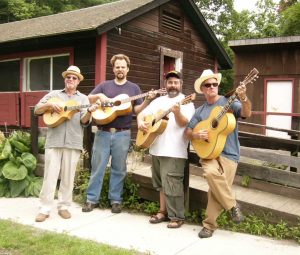 I've had a full and busy summer and haven't been too good about updating the blog. Sorry about that. I made a conscious decision at the beginning of the summer that I was going to try to make the most of it, spend a lot of time with my family and outdoors. Now that the weather is turning colder and the days are getting shorter, I'm sure I'll be better about sitting down to record what's been going on.
I usually spend a fair amount of time traveling around during the summer. I try to get to a couple old time music festivals each year and get as much playing in as possible. The music festivals that I tend to go to usually focus on old time hillbilly music. The festivals are participatory in nature and the attendees are the ones who provide the music. The focus isn't on a stage, or on outside acts. The folks who go to the festival are the entertainment. People set up camps and sit around and play music and catch up with their friends. When they're not playing, they're usually walking around listening to music at the other camps. It's a foreign concept to a lot of folks who are into Country Blues, but it's a really great way for people to get together and play music.
I'm not really a hardcore old time nut. I consider myself more of a songster. You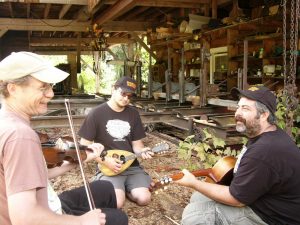 can only play tunes for so long until it gets boring and somebody needs to start singing. As a result, I usually congregate with people of like mind, who appreciate good tunes but need to have some ballads or blues in the mix.
My favorite festival of all the ones that I've been to is the Harry Smith Frolic in Greenfield, Mass. The Frolic was started by a group of folks in Northern Massachusetts and Southern Vermont who felt that people who play old time music should listen to the recordings of artists from the 1920's and 30's who played the music, rather than listening to modern musician's interpretations of this music. The have brought a lot of new people into their community and folks up there are making some of the best music I've heard.
In addition to being a great music festival, the Harry Smith Frolic is a celebration of the Anthology of American Folk Music. The Anthology was a six album set of music originally released in 1952. Much has been made of it since its reissue in the late 90's and I think that all that hub bub sort of made me shy away from it. The fact is, Harry Smith did a pretty amazing job of presenting an accurate snapshot of early American vernacular music. I'm not going to go into it here, but in short it's a great collection and everybody should have a copy.
While most festivals tend to focus on old time fiddle music, the Frolic equally values ballad singers and blues players. There is a pretty eclectic bunch of performers for the relatively small number of people who attend. One of the highlights of the festival is a reenactment of one of the three volumes of the Anthology, which occurs on midnight of the second night of the festival. For the first seven years of the Frolic, folks performed Vol. 1, Ballads. This year the decision was made to perform Vol. 3, Songs.

A guitar maker is much like any other trades person in that they don't often get to reap the rewards of their craft. In other words, I don't usually have one of my own guitars. When I do have one, I usually end up selling it during a lean time. When I go to festivals, I don't usually have anything to show for myself. Sometimes there are folks there who have an instrument that I've made, but I'm not usually one of them. I decided that this year I was going to make a guitar at the beginning of the season that I could haul around to the different festivals and not be shy about letting folks play it. I didn't want to put a huge investment into the guitar and I wanted to build it as quickly as possible.
I decided that I would make a smaller model as it would be easier for traveling. I chose the Annunziata as it is sort of a combination between the Loretta and Erma and I thought it would get the most sound out of a small body. For materials, I decided to use wood that people had given me, or things that, for one reason or another, I couldn't use on a custom guitar, but were too good not to use. I had a nice set of koa that my good friend Federico Sheppard gave me, so I decided to use that for the back and sides. I had a nice old set of German spruce that was too small to use on anything but a concert sized guitar, so that was going to be the top. My buddy Federico had also gifted me with some Madagascar rosewood that I wanted to try for the fingerboard and bridge (he is a really good friend and super generous guy).
I kept it simple using only a black/white/ black line for the rosette and purfling. I bound it with some nice flamed maple, on the top only, and skipped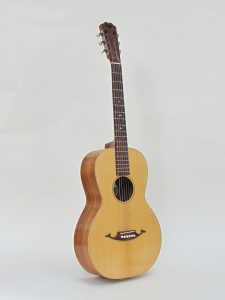 a center strip on the back. The neck blank was one I had sitting around the shop that had a knot on the back of the peghead. I put a rosewood veneer on the front and back of the peghead and it was no longer an issue. I decided to do the Neapolitan headstock and whale tail bridge to dress it up a little bit. I was out of pearl dots, so I cut some quick diamonds for fret markers. I gave it a pretty quick French polished varnish finish and had it strung up nine days after I initially joined the plates. I probably could have done it in seven, but I have a family and I don't work in the shop on weekends.
The finished product is a really sweet little guitar. I've been playing on it all summer and it has really opened up. It's been great to have one of my guitars to bang on and not worry about. It's also been great being able to pass it off to friends for them to try out. It's had quite a bit of playing done on it in it's relatively short life. I'm looking forward to seeing how it continues to develop, and where it ends up.