I have a love for Italian music, which has become more intense over the past few years.  In addition to collecting Italian 78 rpm records, I've been listening to more Italian folk music and my interest in traditional instruments like the friscalettu (cane whistle), zampogna (Italian bagpipes), and the chitarra battente has continued to grow.
Much of what I've learned about traditional Italian music has been passed along by my friend David Marker.  David is an Italian American who has made several trips to Italy and made some incredible field recordings and shot hundreds of hours of film of some of southern Italy's most traditional musicians.  His wonderful film, "Zampogna, the Soul of Southern Italy",  traces his journey from his family's home in Sicily to a zampogna festival in Scapoli, and introduces some of the players and builders he meets along the way.
Over the past few years David and I have been corresponding about the chitarra battente, an instrument which is typically used as a rhythm accompaniment to vocals or other instruments like the accordion or zampogna.  Chitarra battente translates into "beating guitar", and it is usually played as such, with the right hand strumming the strings, at times using various finger rolls, and striking the top to add to the rhythm.  In the past there were several different kinds of chitarra battente which reflected different regional variations.  Some had four single strings, others five.  There were also double string varieties with eight or ten strings.  These days the typical chitarra battente is of the ten string variety, with five doubled courses.
Recently I had the pleasure of attending the All Things Italian Festival in Fairfield Iowa, which focused on traditional Italian music this year.  David Marker helped to bring together many of the musicians who performed at the festival.  It was likely the largest gathering of zampogna players, or zampognari, in the history of the U.S.  They came from Italy, New York, Philadelphia, Chicago, Washington D.C.,  Kansas City and California.  It was a wonderful gathering with a lot of incredible music.
One of the issues that David faced was that one of the performers, Gianluca Zammarelli, was coming from Italy and was unable to bring a chitarra battente for the trip.  David asked me if I could set up an old guitar for Gianluca to use as a battente. I had been wanting to make one for a while and figured that the time had come.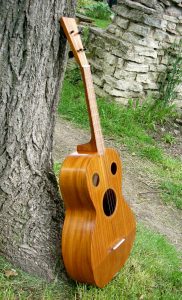 David was not really sure about the dimensions of the chitarra battente and there were no specifications available online.  I emailed a couple people in Italy but was not really able to get any answers.  I think the reason was that there is not really any "standard" for the instrument.  They were folk instruments, and folks built them in their own way. There were regional variations, but for the most part, people did their own thing. As a result, I decided to do my own thing, using one of my existing body shapes and building it according to how I build.  I used photos for reference, as well as a variety of videos.
I used my Loretta model for the shape, and at David's urging, decided to make a four string variety which is the tradition in the Campania region.  I also decided to bend the top, the same way they are bent on bowl back mandolins, and to have an extreme radius on the back.  Many battentes have rounded backs, similar to a lute, others are relatively flat.  Rather than using a slipper block construction on the neck, in which the neck block is part of the neck an the sides fit into kerfs in the neck block, I decided to go with a dovetail neck joint as it is what I'm used to and would give me more control setting the neck angle.  The neck is relatively short, with only 10 frets to the body, and the strings are very light, four .009″ gauge strings, so there is very little string pressure on the neck.  Another unusual feature is that the fingerboard is flush with the top of the guitar.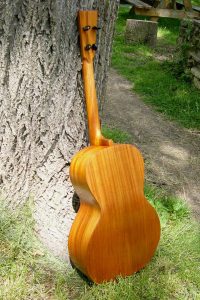 The tuning for the chitarra battente also has regional variations.  We tried a few different tunings on this instrument before settling on one that Gianlucca uses, E, A, F#, B.  The top three string are usually fretted, while the E is usually unfretted and acts as a drone.
This was one of the more unusual projects I've undertaken, also one of the most rewarding.  Gianlucca gave me his blessing, though he did suggest tweaking few finer points in the setup.  It was great to hear it played by a master.  So, here he is, Gianluca Zammarelli playing a couple songs from Catania,  the first a "song of disdain" about lost love, the second a humorous song, full of double entendre and sexual inuendo.