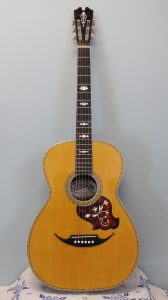 Much of my work has been influenced by the work of Italian immigrant luthiers who worked at the early part of the 20th Century. Initially I was drawn to the work of the Italians who worked at the Oscar Schmidt factory who built Stellas, Sovereigns and other brands. Later I became fascinated by the Italians who worked in small shops, either by themselves or with a few other people, at times with their family. These men came from Naples, Sicily, Campania and Tuscany, some had been trained as instrument makers while others were cabinet makers. They set up shops in New York's Little Italy, Italian Harlem, Brooklyn, and Staten Island, and in Boston, Philadelphia, and Chicago. Their work has been largely overlooked by collectors and historians. These luthiers and their instruments were the synthesis of Italian traditions and American progress. They largely built steel string flat tops and mandolins. A few who were active into the 1930's built arch top guitars and violins. They were the men who preceded John D'Angelico, and some of them were very instrumental in his development.
Over the years I have collected as many of these Italian-American instruments as is possible. I have done restorations and repairs on quite a few, and I have done a fair amount of research on the history of the builders, looking through historic documents, and at times contacting their families.
This summer I built three guitars which were reminiscent of the higher end work of these builders. From fairly straight copies, to combining elements from different builders, to my own designs based on their work.  All of the guitars were built in a similar manner to the originals, with hide glue and  varnish finish.  All parts are made by hand, in house, including the purflings and pickguard materials.  All of the inlays are hand cut.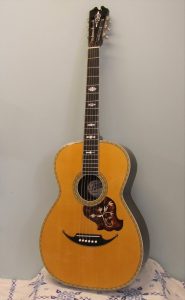 #1. Fenezia six string– This guitar is based on the work of Raphael Ciani and Antonio Cerrito.  It is similar to the Galiano guitars played by Ernest Stoneman, Nick Lucas and Andy Sanella.  For the most part I borrowed elements from different guitars of Ciani and Cerrito, the body shape, bridge, pickguard, purfling and inlay patterns.  For a while I've wanted to make a headstock with a finial, something which was often used on Neapolitan mandolins, and which D'Angelico used on his archtops.  I had never seen something similar on a flat top guitar and figured it was overdue.  I have a Ciani mandolin in my collection with an ivory finial, so I modified the shape of the mandolin headstock for a slotted guitar peghead.  I carved a finial on my lathe out of cow bone rather than ivory.
The top is a very tight grained spruce, the back and sides are Indian rosewood.  Ebony fingerboard and mustache bridge.  The guitar is ladder braced with a 26 1/2″ scale.  It is tuned down a full step from a regular guitar with light gauge strings.  The guitar has a tremendous sound.  It's very powerful and resonant.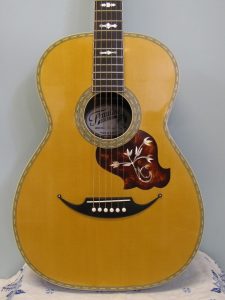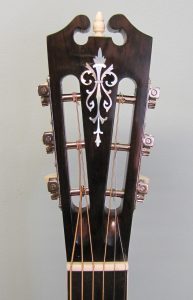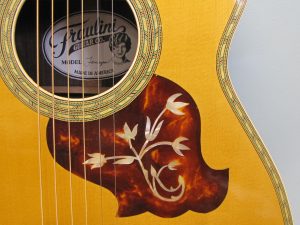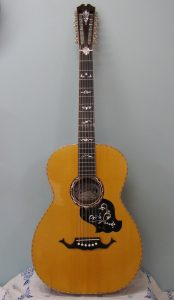 #2. Fenezia 12 string– This instrument was a collaborative work with my customer.  It was influenced by Ciani and Cerrito and also by Giovanni Favilla among others. It  is a big bodied 12 string with a 26 1/2″ scale, tuned down to B.  The top is very old German spruce, the back and sides are Tasmanian blackwood, the fingerboard and robust mustache bridge are ebony.  It has a very warm and rich tone and is a joy to play. I also made a hardshell case for the guitar.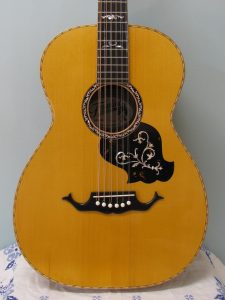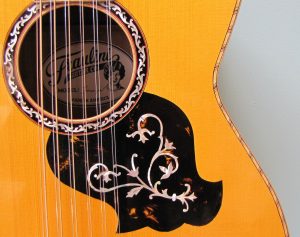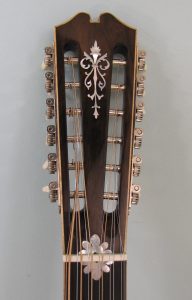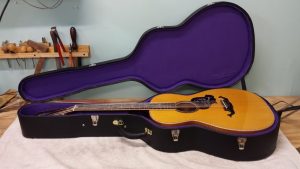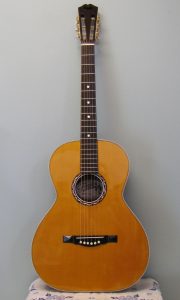 #3 Angie six string
– This guitar was largely my own design, it was influenced by Rocco Mango, Phillip Interdonati, and the DeLuccia family.   Interdonati and the DeLuccia's made some of the finest instruments of all the Italians.  Interdonati's instruments are extremely artistic and are a glory to behold at all angles. The DeLuccia family worked in Philadelphia and were more influenced by Martin than any of the other Italian builders.  Their instruments are very well made and tasteful. This guitar is an X braced 000 with a very tight grained spruce top and mahogany which came from an old bar. The fingerboard is Brazilian rosewood and the bridge is ebony.  The scale is 25 3/4″.  I used a red and green herringbone which I made a few years back.  Martin used a similar purfling in the 1890s and I thought it gave an appropriate nod to the Italian flag.  This guitar is exceptionally rich and elegant in tone.