1.  A customer asked me to build a very plain Erma, in the style of some of the early Antonio Cerrito built Galiano guitars.  These guitars usually had top binding only, a very simple black and white rosette and two dots on the fingerboard.  This guitar has a red spruce top, mahogany back and sides, maple binding, Brazilian rosewood fingerboard and bridge.  It is ladder braced with a 24.9″ scale.  While the Galiano's were usually grand concert sized, this guitar's shape comes from a smaller, concert sized Oscar Schmidt guitar.
3.I made this Angelina six string for Jerron Paxton, a great young player who will be a household name before long.  Jerron wanted something with some volume and punch.  We worked together on the design.  The pickguard is inlaid into the top, inspired by a Lyon and Healy six string he had.  I made the rope purflings.  Spruce top, mahogany back and sides, rosewood fingerboard and whale tail bridge.  I look forward to hearing him play it.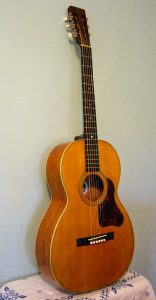 4. My friend John Miller, who is a fantastic guitar player, was interested in getting a baritone six string.  We had talked about it for many years and I was happy to get the opportunity to build one for him last year.  We decided to use an Angelina as the template.  The guitar has a hemlock top which was salvaged from an 1890s warehouse beam.  The back and sides are cherry, provided by John's brother.  The guitar has a 26 1/2″ scale and is X braced.  A fairly understated aesthetic, green/white/black rosette and purfling, maple binding.  I look forward to hearing what John comes up with on it.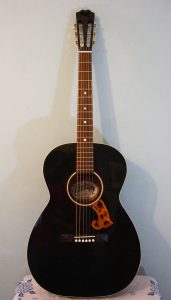 5.  I'm constantly thinking about guitars and this one had been on my mind for a while and was dying to get out.  I was able to fit it into the schedule last fall.  I call it the Midnight Special.  It's an X braced Fenezia with a short 24.9″ scale,  The top is ebonized spruce with an inlaid pickguard.  the back and sides are mahogany, rosewood fingerboard and bridge.  This guitar was incredibly light in weight, only 3lbs 6 oz.  It sounded fantastic and was a blast too play. So much fun that I had to get it out of the shop because I wasn't getting enough work done, all I wanted to do was play it!  It found a happy home with a great customer.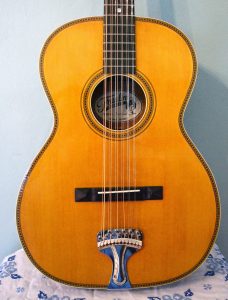 6.  I probably get more requests to build Leadbelly 12 string than any other model.  I always love to do them and never get tired of it.  This one was headed to Germany.  It had an old German spruce top, mahogany back and sides, ebony fingerboard and bridge, handmade German tuning machines.  I was really happy with the way it turned out.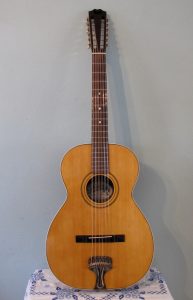 7.  My friend Todd Albright asked me to build him a 12 string.  The only input he had was that he wanted a big one and he wanted it to have a tailpiece.  He told me that he didn't want to see any pictures and wanted to see it for the first time when he opened the case.  I decided on a Fenezia with walnut back and sides.  When I spoke to Mike Acosta (grandson of Guadalupe Acosta, son to Miguel Acosta, who built Lydia Mendoza's 12), I asked Mike what kind of wood they used for the back and sides.  He said, "Most of the time they used mahogany, but for the good stuff, they used walnut."  A buddy had just given me some nice walnut boards and I was looking forward to making another walnut guitar.  The guitar really sounds exceptional.  Nice hollow, old time tone.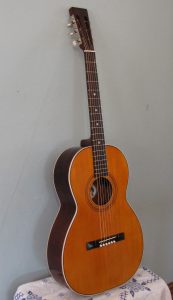 8.  A customer in Nashville asked me to build an Angelina six for fingerpicking country blues.  This one is ladder braced, has red spruce top, mahogany back and sides, ebony fingerboard and pyramid bridge.  While all my guitars have a varnish finish, this varnish seemed to have an especially warm tone.  I wish I remembered what it was!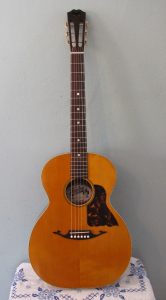 9. I made this 14 fret Angelina for my buddy Catfish Stephenson.  I played with Catfish for eight years or so.  He was instrumental in my development as a musician and in my understanding of music and life.  I hope to write some more about him and this guitar, but here's the skinny;  It's an X braced 14 fret Angelina, similar to an L-00, but it's own thing.  Spruce top, walnut back and sides, from the same board as the above 12 string, rosewood fingerboard and whale tail bridge.  It's a great guitar, very responsive and fun to play.  A fingerpicking machine.
10.  I brought the Midnight Special (black Fenezia listed above) to a party where some friends were playing music.  I left it with my buddy Arne while I went out for a walk.  When I came back Arne asked me, "What do I gotta do to get a guitar like that?"  I told him to save his pennies.  He called me a month later and told me he had saved some dough and asked if I'd make him something.  He said he wanted the same guitar, maybe with a sunburst.  I came up with this.  Spruce top, mahogany back and sides, rosewood fingerboard and bridge.  X braced 24.9″ scale.  Very lightweight at 3lbs, 7oz, 1 oz heavier than the black one.  It sounds great, nice bass which should continue to develop.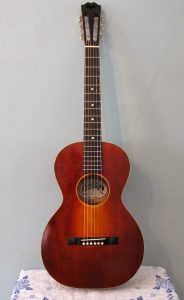 11. My friend Jan in Norway asked me to build him a Loretta parlor guitar for playing Blind Blake.  He pointed out a couple sunbursts that he liked.  I came up with this guitar.  It is inspired by the sunbursts that Gibson did in the 1910's an 20's on their guitars and mandolins, which were hand rubbed and had a varnish finish over the top.  For me, those are the most beautiful finishes.  I'm very happy with the way that this one turned out, especially the birch back and sides.  With a 24 1/4″ scale this guitar is a lot of fun to play.  The perfect thing for Blind Blake and Lemon Jefferson.