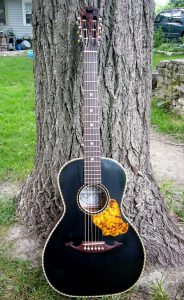 The vast majority of the guitars from the time period that I focus on, from 1900 to the mid 1930's, didn't have pickguards, though some of the fancier ones did. As a result I haven't made that many instruments with pickguards. I have had an occasional request and I've put on quite a few clear guards which give added protection but aren't highly visible. I have been fascinated by pickguards though and the materials which they have been made out of and have been experimenting with them increasingly over the past year, even making some of my own faux tortoise material.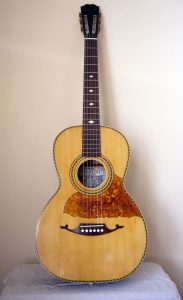 In the very old days pickguards were generally made from the shell of tortoises. I have a couple old bowlback mandolins with genuine tortoise shell guards and while it is beautiful stuff, it has many drawbacks, mainly that tortoises need to be killed in order to get it. It also fluctuates greatly with humidity and is prone to cracking and warping. It fell out of favor in the late 1800's, I'm not sure if that was related to some sort of tortoise conservation sentiment or to increasing costs. I assume it was the latter (These days it is highly illegal to make anything with genuine tortoise shell). As a result substitutes for tortoise were developed in the late 1800's.
Some of the substitutes were made from casein, a protein and bi-product of milk, others with celluloid nitrate. Pickguards on instruments tended to be of the celluloid variety and had their own drawbacks. First, they are highly flammable and I'm told that many of the plants that made it ended up exploding. I believe there is one plant in Italy that still produces the stuff. Second, it tends to decompose and can eat away at finishes. While many people still like to use it because it has "the look", it's a little less than ideal.
A few luthiers have developed their own versions of faux tortoise, principally John Greven and his Tor-Tis materials. John has done a wonderful job of recreating the look of genuine tortoise shell, as well as many of the patterns that the Italian companies made from celluloid, which showed up on some of the great vintage instruments. The modern substitutes are made from material which are not volatile like celluloid, are more stable than either tortoise shell or celluloid, and are also much more environmentally friendly than the other two options.
A few years ago, after making a guard from some of the Tor-Tis material, my mind started to wander as to how one could go about making something similar. I thought about it for quite some time and had some theories going through my head before I started experimenting. When I finally did give it a shot I was pleasantly surprised, but my mind started to wander even more, thinking of patters, shapes, possibilities etc. I did quite a bit of experimenting before I was happy with what I was producing. I won't go into the process or the materials, but I would like to share photos of some of what I have produced and show how I've put it to use.
I've really enjoyed experimenting on this new front, and I look forward to making more guards in the future. In addition to protecting the finish and the top, they look great and really add to the personality of the guitar.