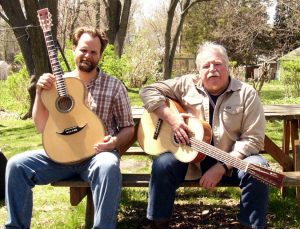 This weekend I celebrated five years of making my living solely as a guitar maker. I've been making and repairing them for much longer than that, but I made the leap from a nice cozy, secure construction job, for a life as a luthier. From a financial standpoint, it probably wasn't the smartest move in the world, but I'm healthier and happier for it and I've been able to pursue my passion. The task would not have been possible without the many great customers that I've had, the musicians who play my guitars, my consigliere Frank Basile and, most importantly, my very loving and patient wife Lily who has stood by me during all of it, encouraging me and advising me along the way. Thank you to all.
As part of the celebration my old friend Paul Geremia came to visit and play a gig. I don't know how long I've known Paul for, but I've been going to see him play for quite some time and he was very instrumental in developing my interest in the 12 string guitar, as he is one of the only people who has been playing an old style, long scale 12 string for his entire career which has spanned over 40 years. Paul is a real road warrior. He plays all over the country at venues ranging from small coffeehouses, to blues festivals, to Prarie Home Companion. He drives every inch of the way, putting on miles like a long haul trucker.
Paul comes through Madison about twice a year and usually plays a gig at the local cofeehouse. He stays at our house and we usually end up doing some setup work on his 12 string, adjusting it for seasonal changes or applying some French polish where the finish has been worn away by his right hand. He's had his Fraulini for 4 1/2 years now and has probably played it every single day of that time. As a result it is an extremely live and open instrument. When I was making it for him he told me to build it as lightly as I dared, which I did, but the real reason it sounds so great is that it gets daily use, by one of the best people in the business. An instrument is happiest when it is played.
The gig was at Mother Fool's Coffee House, a local institution that is the best place in town for acoustic shows. I opened the show and played a variety of songs spanning from Reverend Alfred Karnes to Cryin Sam Collins. I always like to open for Paul because then he comes out swinging, showing everybody why he has the reputation that he does. He was fantastic! My favorite tunes were Silver City Bound and Meet Me in the Bottom. Of course I'm biased because he plays both of those on 12 string (his 30's Gibson J-35 sounded pretty good too). It's always great to sit back and listen to a master play, especially when it's an instrument that you've made. I'll look forward to the next time he comes.