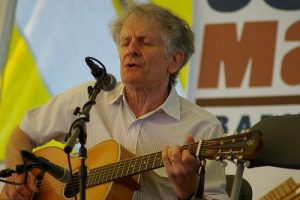 I recently had the honor of making a guitar for one of my musical heroes, Mike Seeger, . I can't say enough good things about Mike. He's a fantastic player, scholar and historian. In addition to being the first person to record Elizabeth Cotten, and the person who tracked down Doc Boggs, Mike is one of the people who made the world at large aware of old time traditional music, as well as Bluegrass. As a member of the New Lost City Ramblers, he turned people's ears from the Folk Revival back to the source material that the Revival was to have generated from. Two of his latest recordings, Southern Banjo Sounds and Southern Guitar Sounds, are essentials for any collection.
I first met Mike at the Appalachian Music Festival in Clifftop, West Virginia. He is working with country music historian, and fellow Madisonian, Bill Malone on his biography, so he occasionally passes through town. He came to the shop a few years ago to see what I was up to. This past summer he was in Madison to play at the Sugar Maple Traditional Music Festival. He had sent me a Galiano guitar to do some work on and stopped by the shop to talk about the work. He saw some of the things that I was working on and expressed interest in getting a new Fraulini. He was interested in getting a guitar made of all North American woods and wanted something lightly built as he preferred to use extra light gauge strings. He said that one of his favorite guitars was a Bradley Kincaid Hound Dog, which I believe was made by Harmony in the early 30's.
I borrowed a Hound Dog from Wil Bremmer at Spruce Tree Music. After going over it, I realized that it was very similar to my Loretta model, so I was able to use existing molds. The Hound Dog was a little deeper than my standard Loretta. Other than that, it is a fairly standard, very lightly ladder braced parlor guitar.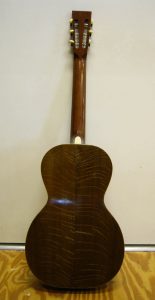 Mike said that he liked white oak for back and sides and I had some nice oak that came from a tree not too far from the shop. For the top I used red spruce, which came from the Adirondacks in New York. I used yellow poplar for the neck. Poplar is a great neck wood. It is strong and stable, knot free, carves nicely and takes stains like a dream. I have several old guitars with poplar necks and they have stayed straight and true over many years. I would use a lot more poplar if people understood how good it was. I used persimmon for the fingerboard. I have heard that persimmon is the N. American ebony and have wanted to try it for a long time. I also wanted to try it because it grows in Mike's part of the country and because of the old song "Possum Up the Simmon Tree". Master fiddler Kirk Sutphin was able to locate some persimmon boards that were perfect for fingerboards. For the bridge, I used some maple which had previously been part of an old beam in a barn that I worked on back when I was a carpenter. I did a simple black/white/black diagonal purfling and a maple binding.
For the finish, I fumed the oak using industrial strength ammonia. The ammonia causes the oak to turn dark brown. It also caused the top to turn green, but a coat of garnet shellac made it instantly look 80+ years old. The garnet shellac also added to the color of the fumed oak. I ebonized the persimmon fingerboard and maple bridge, and I stained the poplar neck a reddish mahogany color. I used an oil based varnish over the shellac and left it thin, in keeping with the lightly built, old style motif.
The final product surpassed my expectations. The white oak back and sides and red spruce top gave the guitar a lot of volume and sustain, while the deeper sides gave the tone a little more time to develop. I was a little nervous that, with the extra light gauge strings, it wouldn't generate all that much sound, but keeping the bracing and the finish on the light side allowed the top to move enough so that it made plenty of sound. You didn't have to lean into it either, it almost played itself. What a relief.